Metal Halide floodlights produce a bright, white clear light,perfect for security lighting. These are also ideal for where a CCTV cameras are in use or anywhere that requires a light to give good colour recognition. Metal Halide floodlights are also very energy efficient, a 150 watt Metal Halide floodlight has a higher light output than a 500 Watt Halogen, whilst using around 70% less power.A highly durable high quality die cast aluminium luminaire supplied with a high purity anodised aluminium symmetrical reflector for improved efficiency.
Quality integral control gear for trouble free use, wired with high temperature silicone insulated cable for maximum heat resistance.
Epoxy powder coated for corrosion resistance, toughened glass cover, and captive stainless steel fixings for ease of access to change lamps.
Rugged construction for a long service life, heat resistant silicone rubber gaskets to ensure IP65 rating.
Heavy gauge stirrup bracket with aiming facility and complete with a high quality double ended 150w metal halide lamp.
Designed and manufactured to comply with CE and IP65.
Applications
• Security & general areas.
• Smaller architectural features.
• Amenity lighting.
• Roadway lighting.
• Feature illumination.
• Temporary site lighting.
• Two year warranty.
• Inclusive of VAT.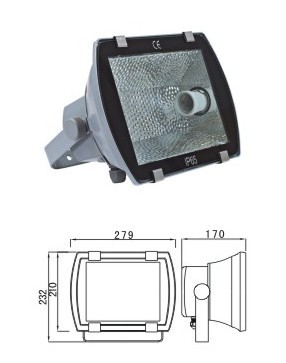 Dimensions: 280mm Wide x 210mm High x 170mm Deep.
Weight: 3.9kgs.
Supply voltage: 240v.