400 Watt Metal Halide fixture included
Integral control gear
Black Die cast aluminium body
IP65 weatherproof
Give off a bright white light.
Total lumen output of 36,000 lm.
Dicast aluminium body.
Adjustable mounting bracket supplied.
Can be floor, ceiling and wall mounted.
Weatherproof, sutable for commercial and domestic use.
The lamps required for this fitting are included.
82 lumen's per circuit watt energy efficiency
230V/50Hz mains supply
Dims: H 405mm, W 420mm, D 147mm. Weight 7.3Kg
400 watt high pressure sodium flood light fixture that uses a golden white light for security lighting and other kinds of applications. These are a high wattage flood that augments good building security with a high light output.We supply floodlight fixtures by quality manufacturers with products that will give you years of trouble-free service. Our 400 watt flood light fixture is great because it gives an even illumination of an area. This insures good light levels and getting good crossover light from fixture to fixture reducing the shadowing effect.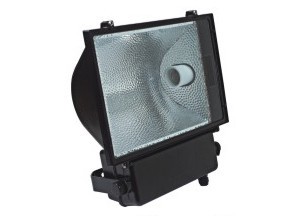 How Many Actual Watts of 400W?
400 Watt Metal Halide Fixture = 458 Actual Watts
Mounted a 6 metres high, this floodlight will light up an area 20 metre x 20 metre to above street lighting level. An ideal solution for car parks or similar areas. The lamp supplied has a 10,000 hour expected life, so should last more than a few years of normal use. The 36,000 lumen's output is the equivalent of over 3 of the standard 500 Watt Tungsten Halogen floodlights,This Metal Halide version is ideal for security use with CCTV camera's due to the excellent colour rendering producing true colours as opposed to the yellow tones emitted from SON (sodium) lamps.