James Lighting is your complete source for lighting. Whether you are looking for High Pressure Sodium Lighting, Metal Halide Lighting or Fluorescent Lighting, we have what you need. We offer complete Ballast Light kits, lighting fixtures and Grow Lights as well.
High pressure sodium lamps are one of the most efficient HID light sources available. The clear and coated high pressure sodium lamps are ideally suited for street and area lighting applications where high efficiency and long life are desired but color rendering is not critical.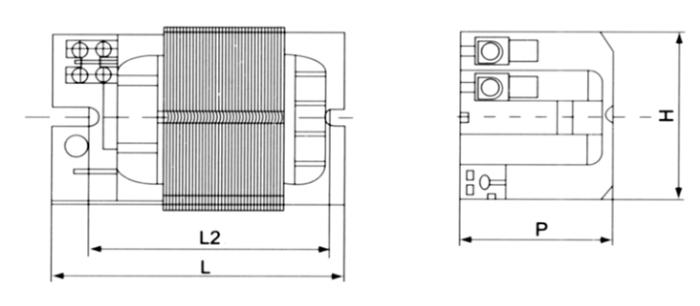 The grow light ballast is a brand James 600 watt HPS ballast, with an innovative design that separates the ballast core away from the capacitor and ignitor components to provide high performance and long life. This grow light ballast is made to our specifications with high output lighting results for horticulture / hydroponics / indoor gardening use. The High Pressure Sodium grow light ballast also features a convenient retractable handle with large keyholes for wall or ceiling mounting options. The lighting ballast also has over-sized rubber feet for electrical safety and quiet operation. The 8 foot power cord and 10 foot light bulb output cords are constructed of the highest quality, heavy gauge industrial grade electrical cord usually seen on grow lights costing much more. A lighting ballast is a piece of equipment required to control the starting and operating voltages of electrical gas discharge lights. Examples of gas discharge light sources include fluorescent and neon lights and high-intensity discharge (HID) lamps. The term lighting ballast can refer to any component of the circuit intended to limit the flow of current through the light, from a single resistor to more complex devices.
A lighting ballast is necessary to operate discharge lights because they have negative resistance, meaning they are unable to regulate the amount of current that passes through them. A lighting ballast must be used to control current flow; otherwise the light could fail. Small light sources can use passive components, which require no additional power to operate, as ballasts. An example would be a series resistor that limits the flow of current across its terminals. For high-powered lights, however, a resistor would waste a large amount of electricity, so a more complex lighting ballast is required.
The HPS ballast is pre-set and ready to plug into standard 110/120 household voltage, but can easily be changed to 220/240 volts. The High Pressure Sodium 600 watt High Pressure Sodium grow light ballast will operate any standard or horticultural 600 watt High Pressure Sodium lamp or 400 watt Metal Halide Conversion lamp. For future upgrades, the universal socket set can be used with many other reflectors; including, air-cooled reflectors, umbrella style hoods, and many other grow light reflector hoods. This makes the system a great value in hydroponic and indoor gardening lighting.